Just as there are many types of steel there are also many types of stainless steel.
'Duplex' stainless steels were invented more than a hundred years ago in Sweden by Sandvik technicians who used two different types of stainless steel that combined together have a very interesting mix of mechanical and anticorrosive characteristics. mechanical and anticorrosive characteristics.
The 2205 Duplex stainless steel used for the locomotives is also called biphasic and has a very particular structure that is based on a double network that forms two independent networks.
The biphasic microstructure of these stainless steels underlies their mechanical properties, often superior to those of their direct monophasic competitors. In particular, the yield strength of these alloys not only reaches values ​​that are approximately double that of the austenitic stainless steels of the AISI 3xx series, but also exceeds that of the single-phase ferritic counterparts by 50-100 MPa. Similar considerations can be made with regard to the breaking load.
The modulus of elasticity, although a few GPa is lower than that of ferritic stainless steels, however, remains higher than that of austenitic stainless steels.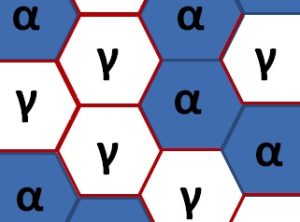 The good mechanical characteristics, which allow the creation of lighter structures, linked to the low levels of nickel present, make this class of steel particularly attractive as a substitute for the classic families of stainless steels. Furthermore, a greater knowledge of the metallurgical phenomena affecting these alloys is allowing an increasingly widespread use, overcoming the limitations that had plagued biphasic stainless steels up to now.
So there are wound (magnetic), authentic (non-magnetic) and duplex stainless steels, which therefore have a magnetic capacity halfway between that of standard steel and that of titanium.
The metal contained in the 2205 alloy particularly resistant to corrosive agents is Chromium which composes this metal for 22%.