Let's see the Scotsman Locomotive together in the special set-up chosen by Dino Lanzaretti, after the first trips to Iceland and Italy and about 1500 km in extreme conditions.
For the type of use that Dino makes in his travels, exploring rough roads and off-road routes they have privileged above all: absolute reliability and repairability even at the end of the world, comfort while pedaling to stay in the saddle many hours a day for many days in a row. , versatility of use in very different conditions, even just by changing tires. And finally a durable bicycle, because when you get used to a faithful companion you don't want to change anymore.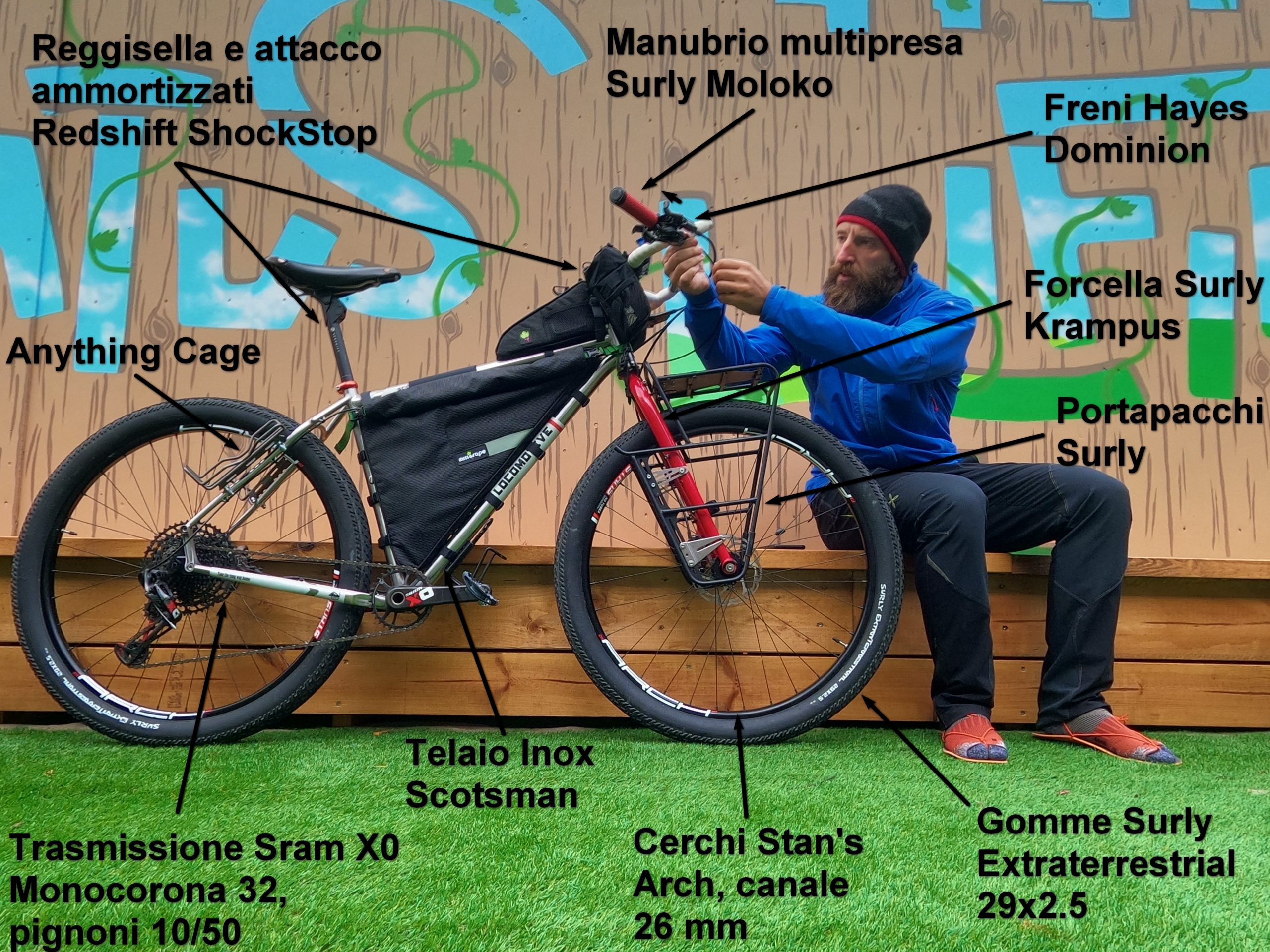 The Scotsman Locomotive frame has been fitted with a Surly Krampus steel fork that can carry tires up to 29 x 3.0 and thru axle. The tires are always Surly, travel-specific Extraterrestial model, in size 29 x 2.5, smooth and super puncture resistant, thanks to the integral kevlar reinforcement (more info here). The wheels have been specially assembled with very resistant Stan's Arch trail tubeless rims, such as the Sun Ringle SRC hubs.
The most counter-current choices are those of the massive Surly front rack, made of steel, repairable by any locksmith, with a load capacity of up to 32 kg and tested through years of travel around the world. The single chainring drivetrain is also not the most common choice for a touring bike. The Sram X0 group with carbon crankset, 32-tooth chainring combined with the 10/50 cassette actually has a very wide range of use, and its simplicity facilitates maintenance while traveling.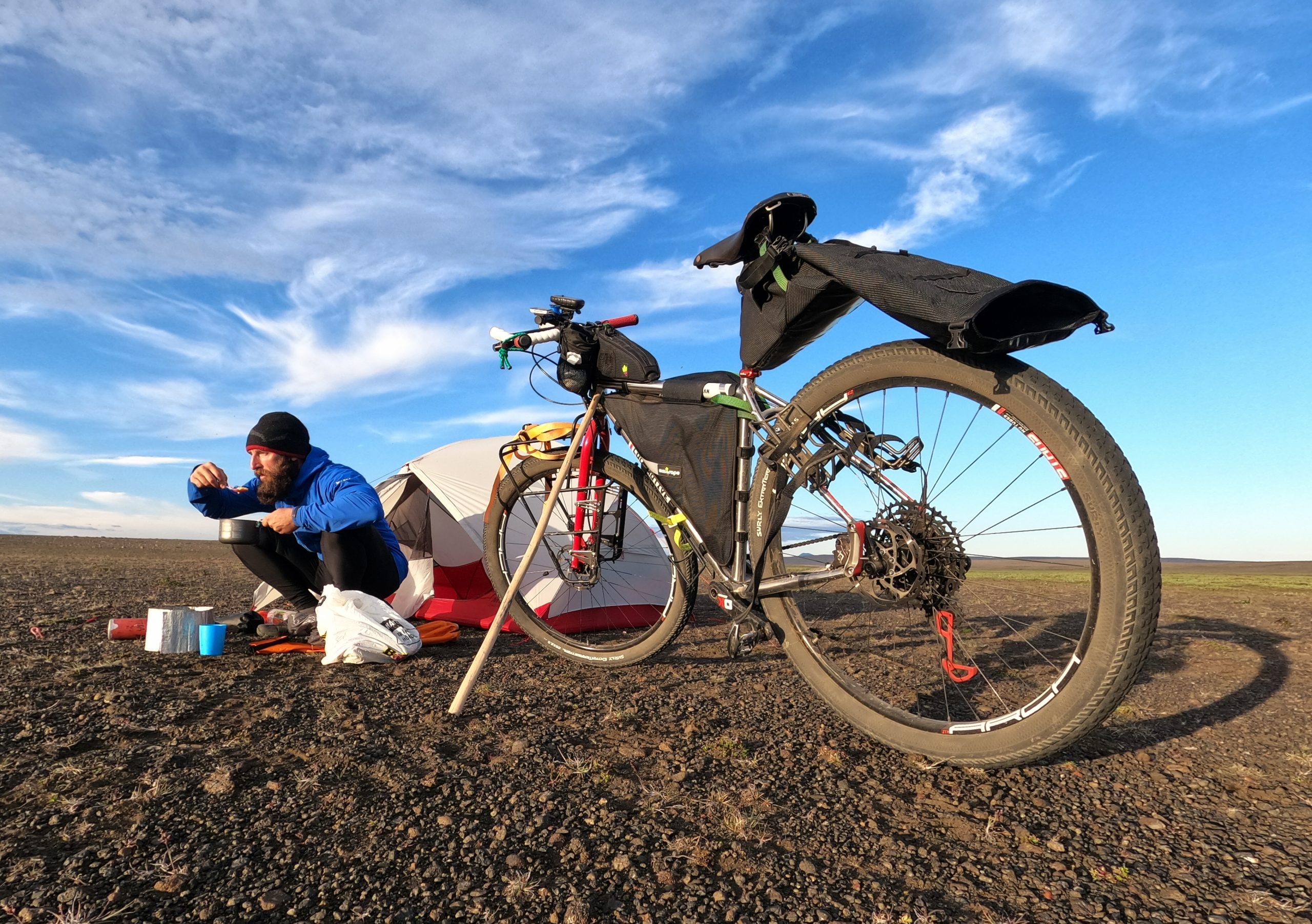 n addition to the tires and the saddle, other components also contribute to making Dino's Scotsman comfortable even on the most difficult off-road routes. Surly's Moloko steel multi-grip handlebar is indestructible in the event of a fall, offers excellent off-road control, allows you to change hand positions throughout the day and offers a wide and sturdy platform for bags and accessories (more info here). The ShockStop cushioned seatpost and stem from Redshift help to dampen vibrations and shocks while pedaling and allow you to maintain a good pace even on the most demanding dirt roads. The stem uses two elastomers of different hardness to dampen shocks at the front, while the seat post uses a preloadable steel spring, both adjustable according to weight (more info here).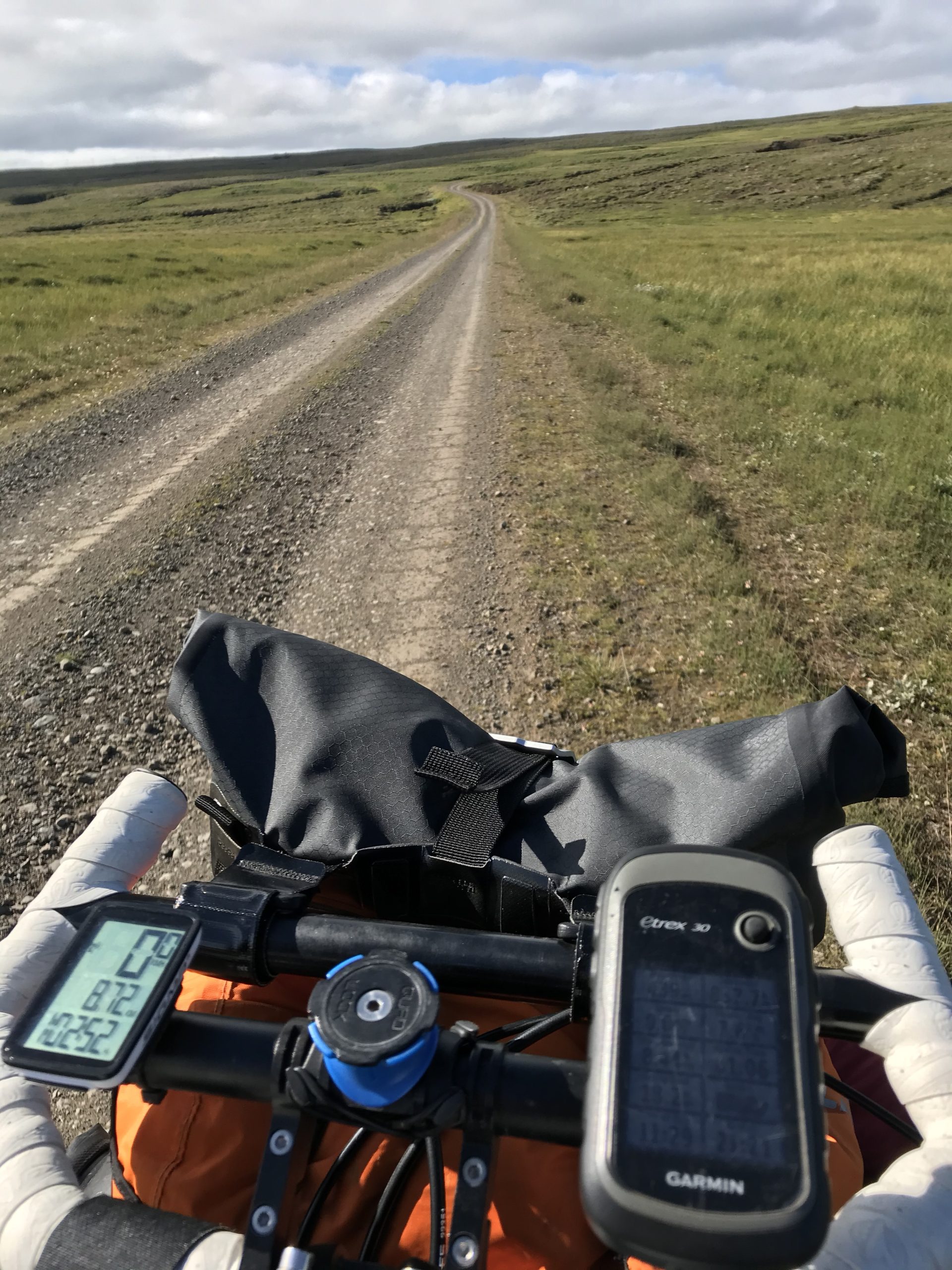 According to Dino, these 3 components alone contribute to maintaining higher averages, even at full load, more than 20% higher than with the bicycles he had previously used.
The bags used in Iceland are: a custom full frame bag, a saddle bag, a bento box and two bottle holders on the Miss Grape handlebar, combined with two traditional bags on the front rack. Dino is working on the materials to take on trips to arrive at a completely Bikepacking set-up for greater lightness and aerodynamics.